Cionar
New single - Download here
Produced by Zak Younger Banks.
Mastered by Barry Reid.
Recorded with Wee Studios.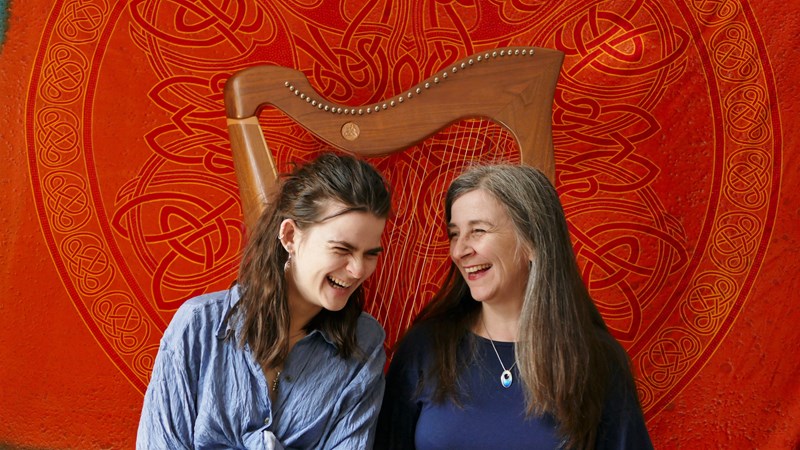 Cionar is an intergenerational duo with voice from Christina and instrumental music on clàrsach from her daughter Grace Stewart-Skinner. With a shared appreciation of Gaelic song and musical tradition, Christina and Grace perform evocative and original arrangements of Gaelic songs and melodies drawn from oral tradition and archives. Their close bond shines through their performances.
Youth Music Initiative
Each week, I visit 4 primary school classes in Highland to teach traditional Gaelic song in interactive and lively visits as part of a programme co-ordinated by Fèis Rois on behalf of Fèisean nan Gaidheal. A total of 99 primary schools in Ross-shire, Sutherland and Caithness take part in the programme. It is funded through the Youth Music Initiative, or YMI. The Scottish Government launched the programme in 2003 to put music at the heart of children and young people's lives and learning.
YMI focusses on working with children and young people from birth to 25 who would otherwise have little or no access to music making activities. The programme includes song and rhyme for babies and toddlers through to whole class tuition for school children as well as professional development for young people ready to start their career in the music industry.
Over the years, I have worked with many primary schools and with baby and toddler groups as part of YMI in the Highland Council area with Fèis Rois and the Care and Learning Alliance. Click on th eimage to find out more about YMI.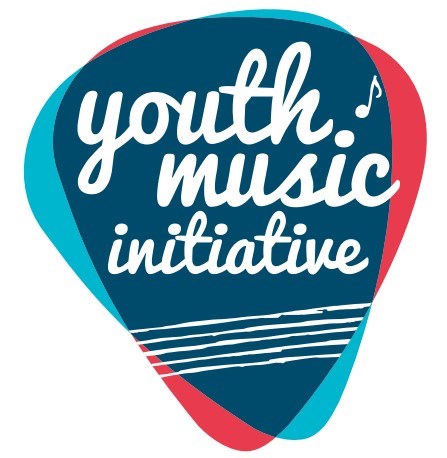 Singin' on
yer Mammy's Knee
Hands-on workshops in lullabies, dandling songs, action songs and singing games from Scottish tradition.
These workshops are a chance to explore the benefits of singing with very young children, such as motor development, speech and language skills and social interaction, while enjoying and array of unthreatening songs and lots of cuddles. Parents, childminders, playleaders and grannies too should come prepared to bounce their little one on their knee.
Nairn Book and Arts Festival, Nairn Library - Thursday 31st August, 10:30-11:30 - https://www.nairnfestival.co.uk/whats-on/8216-singin-8217-on-yer-mammy-8217-s-knee-8217-scots-lullabies-with-christina-stewart-free
Nairn Book and Arts Festival programmes an eclectic range of events showing its commitment to supporting community-focused arts, while providing a platform for writers, artists, musicians and performers from across Scotland and the UK.
A Daunder through Thistles - Turas tro Cluarain
Described in The Scotsman as a "brisk and deeply moving ... musical drama ... a beautiful tapestry of elegant tales that shall be remembered and treasured for as long as we believe in fairies, romance and our mysterious journey through life itself."
Nairn Little Theatre, Nairn Book and Arts Festival - Wednesday, 30th August, 2023 https://www.nairnfestival.co.uk/
Just as the hearth-side cèilidh was home to the varied strands of oral tradition, A Daunder through Thistles - Turas tro na Cluarain encompasses traditional tales, ancient and not-so-ancient songs, contemporary poetry and original music. The result is an evocative, colourful and joyous examination of how we as Scots connect to and respond to our homeland.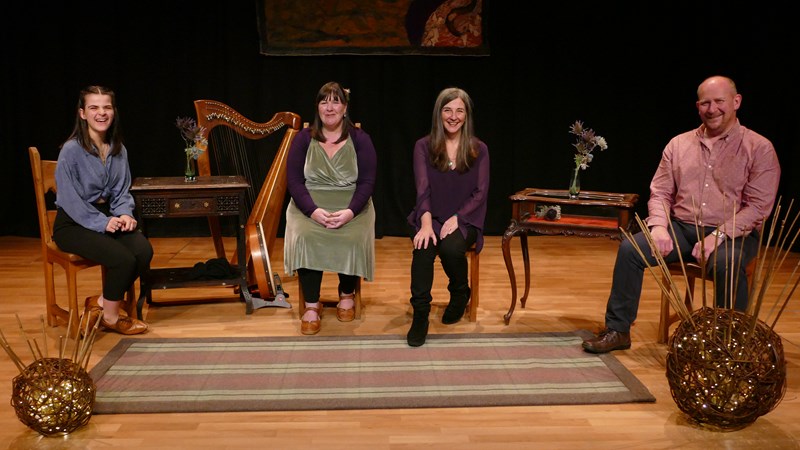 Left to right: Grace Stewart-Skinner, Susi Briggs, Christina Stewart, Alpin Stewart
The intergenerational ensemble comprises four artists performing in Gaelic, Scots and English languages and integrating sensitive translations in a fully inclusive way.
Spirit of the Highlands Commission - The Rose Window
The Rose Window is a commission for Spirit of the Highlands drawing together original music and spoken text referencing oral history and printed ephemera from archive and personal collections.
Click on this link for the piece:
https://discoverhighlandsandislands.scot/en/spirit-360/christina-stewart
This piece charts the urban story of Academy Street's iconic rose window in Inverness and the restaurant which was its home, through the words of the people who remember it, adverts and menu snippets from the restaurant itself.
For many years, the rose window was a commanding feature of the Stewart Restaurant, founded by Christina's grandfather and latterly owned by Christina's father and his two sisters. Numerous family members, former staff and customers contributed their reminscences and these were collated by Christina along with quotations from printed primary sources, including press notices from the restaurant's opening. This is a collaborative piece, combining spoken text with a new composition on clàrsach by Grace Stewart-Skinner.
The window itself is being incorporated into the design of developments at Inverness Castle and this commission will feature in the Spirit360 celebration of Highland stories.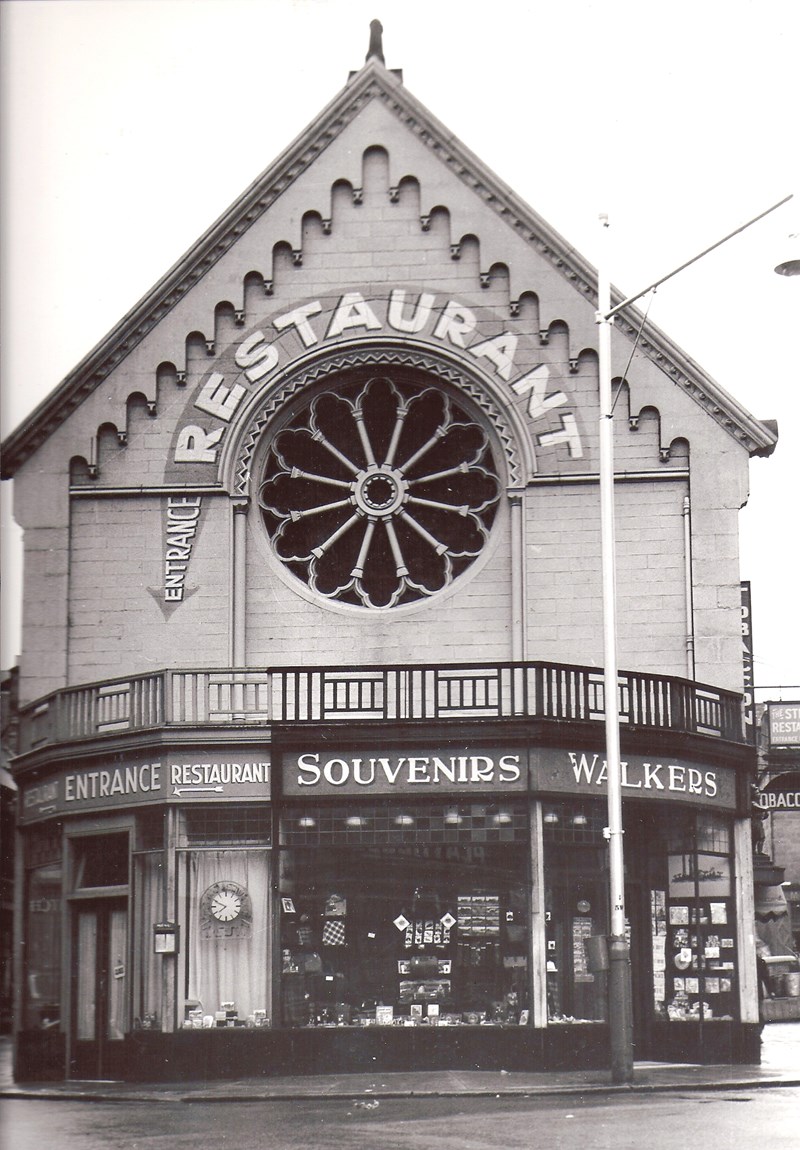 Echoes through Time
Taking inspiration from the extraordinary carved representation of the Biblical King David playing a Pictish harp on the Nigg Stone, Christina worked in partnership with harp expert Bill Taylor. Their research explored traditional and historic music and song from a variety of sources, including research visits to archives, where they discovered lesser-known historical pieces. They have devised a programme of song and music on a range of harps and psaltry, spanning centuries of Scottish history. Echoes through Time premiered in Old Nigg Church, where the intricate and impressive Nigg Stone is displayed.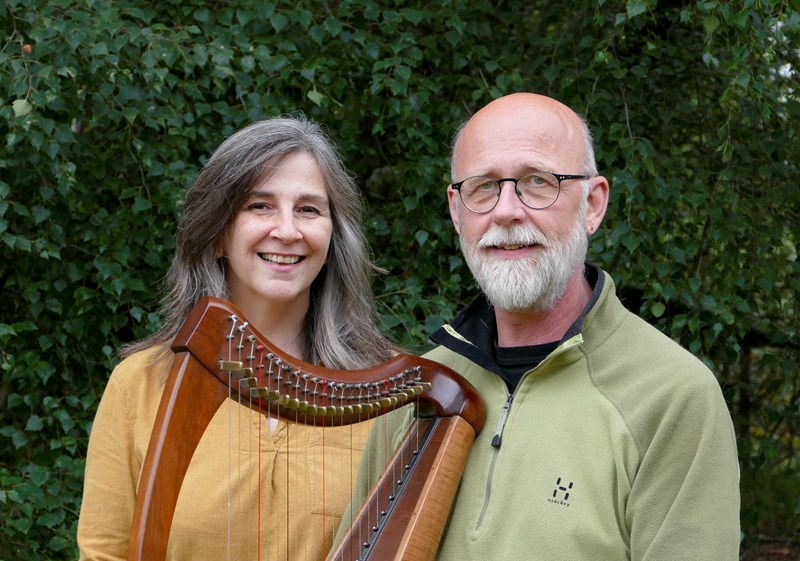 A Woman Walks into a Bar
A woman walks into the bar of an inn in a small West Highland fishing community. It's a cèilidh house, and she is a wandering singer. For every story she has a song, and for every song there's a story.
Commissioned for the Scottish International Storytelling Festival's Go Local programme, this show is a collaboration between Christina, storyteller Bob Pegg and instrumentalist Bill Taylor. It takes the form of a single narrative strand, linking the lives of the different characters through song, story and music. The show also featured in Summer@Storehouse.