Sing a Song of Sleep – Lullabies from Scottish Tradition
Added on 07 May 2015
Sing a Song of Sleep – Lullabies from Scottish Tradition
The Scottish Storytelling Centre, Edinburgh
Saturday 30th May, 1pm-3:30pm
£12.00
This is a relaxed and inclusive workshop suitable for parents and carers as well as singers looking to expand their repertoire. We begin with warming up on the most basic principals of lullabies before broadening the scope to more elaborate sleepsongs and the stories which encompass them. A couple of simple Gaelic songs are included along with Scots and English, but no previous experience is necessary.
We will look at different aspects of lullabies in Scottish tradition, learning songs as we go. Participants are encouraged to share their responses. Printed song lyrics can be made available and participants are welcome to bring recording equipment and take their own notes to capture melodies and stories. In the last half hour of the workshop there will be lots of singing along, which the participants' young children are welcome to enjoy. Participants may also bring musical instruments if they would like to do so and are confident to improvise!
Click on the Storytelling Centre logo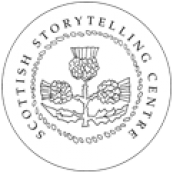 to go to the Box Office and book your place.